NBWFC Engine 907 is a type 6 wildland engine and the crew workhorse.

It is a newly refurbished 1986 Chevy Silverado 3500 4 door with a crew capacity of 6.
The engine features a 350 throttle body married up to a 3 speed transmission with a gear vendor.
Engine 907 boasts an RKO 250 gallon tank with a hale pump capable of pumping up to 150 gallons per minute at 325 PSI.
It carries a reel of 300 feet of 1″ hose,  1000′ of 1.5″ hose, and  750′ of deployable 1″ hose .
The engine also carries two Stihl saws – an MS460 and MS391, in addition to a bumper mounted 10,000 lb cable winch and a host of other tools and firefighting equipment for the crew.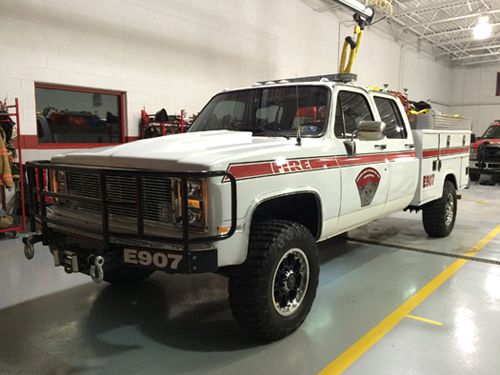 Trailer 907 is a 7×14 double-axle Car Mate trailer.
It houses most of the gear the crew will utilize on call outs, including 20+ hand tools, fire shelters, two portable pumps, drip torches, spare fuel, food and water and a portable water tank.